日本語/English
Let's learn SDGs!
Board Game made by Future Technology Association for Promotion
While going around the world, we challenge various businesses and aim to achieve SDGs. By experiencing many examples of activities and collaborating among players, you can deepen your understanding of SDGs.

This Boardgame's Feature
You can learn a lot about business activities of SDGs
By collaborating with other players, you can learn the importance of cooperation
You can enjoy your understanding of SDGs through games
Let's Aim to Achieve Both Goals
Make 17 SDGs scores reach perfect 10
Upgrade your organization (Subject card)
Let's Play Game!
1. Choose the SUBJECT card!
Choose one of the four SUBJECT cards, namely "Large Company (LC)", "Small and Medium-sized Enterprise/Start-up (SME/Start-up)", "University/Research Institute (Univ./RI)" and "Charity". Annual budgets are different depending on organizations you belong to.
2. Throw the dice and move your token!
You carry out missions or events occur according to the squares you stopped at.
3. Implement missions and raise the SDGs scores to the target value!
By tracking the mission all over the world, the SDGs score will go up and down.
You need a coin to do it. If coins are short, let's collaborate with other organizations
and aim for score increase.
4. Upgrade your organization by in-house investment!
As you invest coins in your organization, the rank gets higher and the annual budget
increase. Let's utilize coins strategically.
Gallery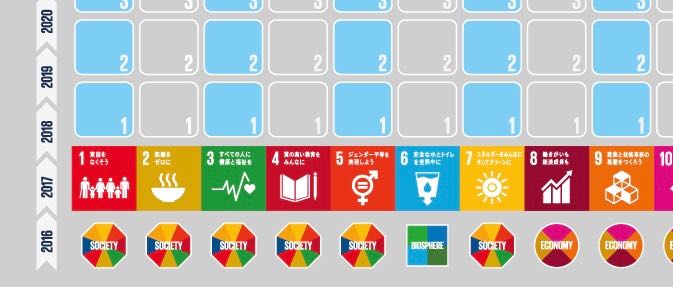 What Is SDGs (Sustainable Development Goals)?
Since 2015, it has been set as a common development goals in the world to solve global problems from the aspects of economy, biosphere and society. Toward 2030, we have clarified global priorities and the world's ideal situation, consisting of 17 goals and 169 targets.